What is the ATX Pass?
Save more than 40% while seeing the best Austin has to offer. The five-day ATX Pass gives you access to more than 20 tours and activities. You can customize your very own itinerary. Whether taking a bus tour, going on a food or beer tour, visiting a museum, or taking a boat cruise on Lady Bird Lake, the ATX Pass saves you money while enabling you to make the most of your time in Austin.
ACL 2017 Austin, TX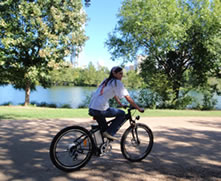 ACL Festival is set for October 6th - 15th. Let Barton Springs Bike Rental be your go to bike rental shop for getting around during the two week festival. Keep Austin Weird with the oldest bike rental shop in town and make your ACL experience one to remember.

We have the largest bicycle rental fleet in Austin!

All ACL bike rentals include at no extra cost:
Roadside assistance.
Helmet.
U-Lock and key.
Basket.
Headlights and tail lights.

For those who wish to join this year's ACL fest, transportation will surely be a major challenge. With the streets teeming full of cars and people, and the high surge prices of ride shares companies, why go through all the trouble when you can have a cheaper, yet more effective means of transport?

And when it comes to providing the best bike rentals for the ACL festival, no other company does it better than Barton Springs Bike Rental. As a pioneering company offering an excellent alternative mode of transportation around Austin, we offer clients the right bicycle unit for their specific needs and desires. Be it a tandem bike, a cruiser, or a premium mountain bike, we will make sure that you'll have a blast riding our bikes around town.

Call (512) 480-0200 today for your questions or reservations!