ACL Austin, TX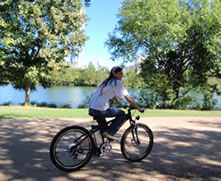 Perhaps, the single biggest music event held annually in Austin, Texas (dubbed the 'Live Music Capital of the World'), is the Austin City Limits Music Festival or simply ACL. This famed annual event brings together close to 80,000 music fans and some 150, or so, musical acts from various parts of the world. Nearing its 13th year, ACL Austin fest continues to be a source of inspiration for emerging acts and established artists, both local and international.
For those who wish to join this year's ACL fest, transportation will surely be a major challenge. With streets teeming with cars and people, moving around and transferring from one venue to another in a car can be a source of disappointment and stress. But why go all the trouble when you can have a cheaper, yet effective means of transport?
Austin's Best Bike Rentals Company
Barton Springs offers the best bike rentals for ACL Austin Music Festival attendees. We provide various bike models that can satisfy varying taste and transportation needs of ACL participants from Texas and other states. Our bikes serve as reliable means of service so that clients like you can swiftly navigate around the city and other tourist spots and events during the festival.
Why Choose Us?
Aside from simply providing excellent bike rental services, we also dabble in sales of pre-used but great quality bikes. There are also other great reasons why you should get our services, including:
Outstanding bikes. Our bikes have complete safety features, such as lights, locks, and helmet. They are also well maintained and are thoroughly checked prior to being rented. This way, we can guarantee a safe and smooth ride to all our clients during their stay for the ACL Fest or tour around the city.
Excellent customer service and assistance. Barton Springs Bike Rental is a client-driven company that works hard to satisfy all its clients. One way that we achieve this is by providing roadside assistance to clients who encounter problems with their rented bikes. We have a staff whose job is to take distress calls from our clients and to immediately dispatch our friendly crew to extend whatever help is needed.
Comprehensive services. Aside from bike rentals, we also provide other services, such as bike tours and shuttle service. Our tours are on a per-schedule basis through which you may choose between the 'Peace Love and Zilker' and the 'Austin in a Nutshell' tour options, depending on your preference. Meanwhile, our shuttle package is a round-trip service where we pick up or drop attendees or bikes in various areas around Austin.
Contact Us for Your Bike Rental Needs
Whether it's for exclusive use during the upcoming ACL Austin event or on a regular tour around the city, you can count on our bike rentals for safe, efficient, and affordable transportation. With our years of experience, you can expect a fun time watching the captivating performances of some of today's best musical acts through our provided tours, rentals, and shuttle services for this year's ACL event.